Our amazing 5 Day Kenai tour
A no holds barred way to experience "Alaska's Playground" in only 5 days. The Kenai Explorer Adventure focuses on the amazing Kenai Peninsula, based out of our famous riverfront main lodge . Kenai Fjords Glacier and wildlife cruising, guided Chugach Moutain wilderness hiking, calm water water paddling in the Kenai National Wildlife refuge and a great day trip viewing bears (NOTE: this experience is not at our own private camp). Leave home and be back with experiences to remember a lifetime..all in a single work week.
Enjoy our world famous hospitality, great meals and "nearly world famous" nightly happy hour, then end each day with more activities (salmon fishing by the fire or calm water kayaking) or simply relaxing by the fire as the river rolls by.

Double occupancy with singles sometimes available.
Accommodations
The base camp of your Kenai vacation is our renowned riverside main lodge on the world Famous Kenai River. All trips are double occupancy, with single rooms sometimes available for an additional fee. Evening activities include Moose River kayaking or paddle boarding, "by the fire" salmon fishing and even end of the day s'mores.
Itinerary
Day 1
Freshwater Salmon Fishing
Your Kenai vacation will begin with a pick up at your hotel (3 designated pickup spots) in Anchorage at 7:30 am for the scenic and comfortable trip to Great Alaska Adventure Lodge. After a thorough orientation, you'll enjoy lunch and meet your guide and head out for the fish. Depending upon the season you'll powerboat or drift boat the Kenai or Kasilof river. All trips are based upon species availability- ask your adventure expert for the species available during the time frame you are booking. Return to lodge for happy hour and dinner.
Day 2
Kenai Fjords Glacier & Wildlife Cruise
Today we'll cruise the incomparable Kenai Fjords National Park! On the way to Seward we'll stretch our legs by walking to the face of a retreating Glacier close enough to almost touch. Then it's on to Seward for a Kenai Wildlife Tour where you cruise and seek calving Glaciers, Humpback whales and Orca, charming Sea Otters, endangered Stellar Sea Lions and a myriad of sea birds including puffins. Return to the lodge in time for happy hour, dinner and evening activities for the energetic kids and relaxation on the deck for the adults!
Day 3
Wilderness Hiking
Today you'll enjoy one of the amazing local trails that make the Chugach National Forest and Kenai National Wildlife Refuge justly famous. Choose from a moderate, mostly level and fairly short trail to the Russian River falls to view salmon leaping towards their native spawning grounds- or select a more aggressive hike that will break a sweat and culminate in a fantastic view of the surrounding snow capped peaks...it's your choice and there are many to choose from! Return to lodge for happy hour, dinner and overnight.
Day 4
"End of the Road" Homer Tour
No one should miss Homer and the "End of the Road". See early Russian churches, active volcanoes, mountain vistas and probably baby Moose with their mothers. Your first view of Homer and Kachemak Bay is truly unforgettable and we will spend a fun filled day exploring the art and rustic uniqueness of a bush community at "Land's End". A famous sawdust floor tavern, wine tasting, local artist galleries, even a boat from "A dangerous catch" call this amazing area home. Return to lodge for happy hour, dinner and overnight.
Day 5
Wildlife Refuge Paddling / Return to Anchorage
Today you conclude your Kenai tour with a paddle into the Kenai National Wildlife Refuge on board safe and maneuverable kayaks. This is a truly unique area, and it's serpentine meanderings are home to Moose, Eagle, Fox, Beaver, Brown and Black bear and even Lynx and Wolves. The quiet kayaks allow us to explore it all without disturbing the animals. We'll enjoy lunch at our riverfront tent camp on the edge of the refuge. Return to lodge at noon, check out at 2:00 and return to Anchorage via commuter air from Kenai Airport ($175.0 p/p) or charter float plane ($250.00 p/p).
Recommended Gear List
However you choose to arrive, please be "dressed for adventure" , as you will not be checking into your rooms until you return to the lodge that evening (approximately 6:00 pm). Please see our pre trip info for specific what to bring list. All necessary gear is provided on our daily safari experiences, but quality rain gear and footwear are two necessities. We highly recommend bringing a medium sized day pack to carry all of your essentials on your daily adventures, along with a water bottle. That same pack or bag can be your carry-on item when you board the plane heading to and from Alaska, so it will do double duty! Be sure to bring a water bottle.
Getting There
Our trips include complimentary sightseeing van pickup in Anchorage (we pickup at 4 downtown, mid town and airport locations). Pickup is typically at 7:30 - 8:00 a.m. (time varies slightly each day based upon number and location of pickups). You'll arrive at the main lodge around 10:30 for check in and orientation. We pick up at the cruise dock in Seward or Whittier for an additional fee. R/T transfers via rental car is also available and we have no charge parking for your vehicle while you are with us.
Return to Anchorage is not included. Choose from commuter air from Kenai (175.00 p/p) or charter float plane direct from lodge (250.00 p/p)

Whats Included
Complimentary van pickup in Anchorage on day one followed by sightseeing transfer to lodge. Trips include our signature meals "nearly world famous" nightly happy hour and appetizers, starting off with Lunch on Day 1 to Lunch on Last Day. Plus of course, our legendary evening activities like "by the fire" salmon fishing and Moose River wildlife kayaking/paddle boarding. Finally, all necessary equipment for your daily adventures is included in your package along with lodge concierge service.
What's Not Included
Gratuities, Alaska fishing license, resort fee, fish processing/shipping. Return to Anchorage on your final day are not included in the package price.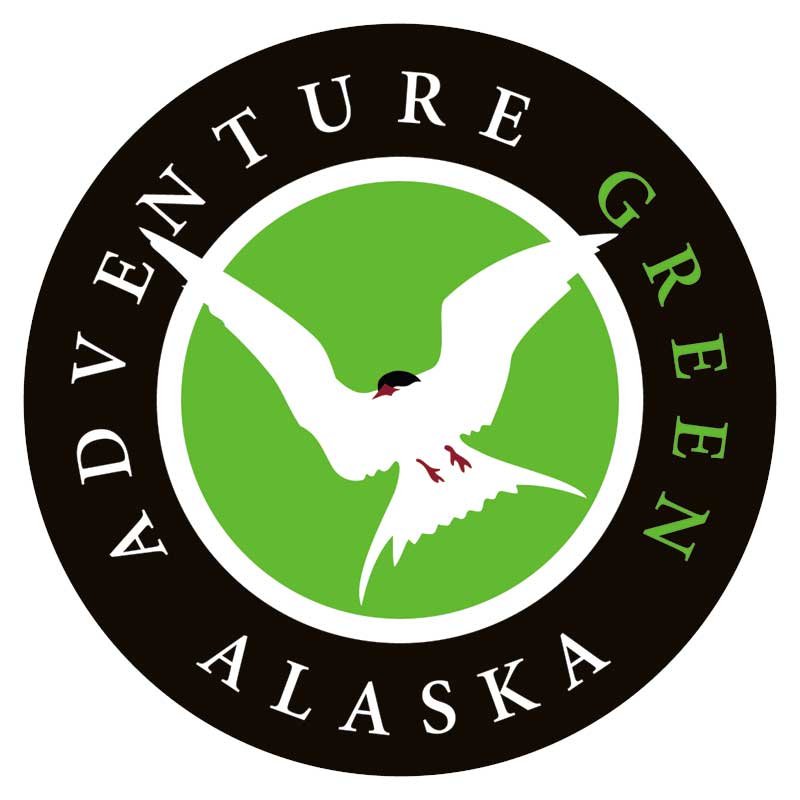 A Sustainable Destination
In addition to sharing the amazing Kenai with our guests, protection of our environment and all of it's unique and amazing wildlife is at the core of all adventure travel and wilderness fishing experiences, and since 2010, Great Alaska Adventures is proud to be certified as a sustainable Travel Destination from Adventure Green Alaska - Alaska's recognized tourism certification program.