One Day fishing trips from Anchorage
Got a free day in Anchorage? Fish the Kenai!
Great Alaska Adventures has been guiding anglers from Anchorage to our waters for great, single-day Anchorage fishing trips for nearly 30 years. Our combined 100+ years of local knowledge on the Kenai River and our commitment to your successful trip are your assurance of a very special Alaska Sport fishing experience. If you want to go for one day of fishing from Anchorage on the mighty Kenai (without the hassle of a rental car, gear, getting your fishing license and the other logistics), let us make it easy!
These Anchorage fishing trips are designed to be perfect fit for those on an independent itinerary throughout Alaska who want to a dd a day of world class guided Kenai River fishing to their itinerary- or a cruise passenger who has a "free" day in Anchorage and wants to experience the real Alaska. If you'd like to see how easy it is to set up a trip like this, please call or email our office to speak with one of our full-time guides to help tailor the exact trip and time that is right for you. These are all inclusive guided fishing packages- We've been providing these great Anchorage Day Fishing Trips since 1985.
Price for this Anchorage fishing trips package is $395 per person plus 3% tax. Lunch and license plus r/t transfers from Anchorage is included in the price. Fish processing and shipping and gratuities are not.

Activities
First, you'll be picked up by our courtesy van at one of three scheduled Anchorage hotels (2 airport and 1 downtown). then you'll be treated to a 2 1/2 hour guided tour of Alaska's playground before arriving at the lodge in time for lunch and your orientation. Then it's time to hit the river with one of great licensed guides for a memorable 4 to 4.5 hour guided fishing trip on the Kenai river. During June and July, you'll target the world's largest King or Sockeye Salmon (Kings catch and release) in powerboats or drift boat. August and September target Silver Salmon, Sockeye salmon and Pink salmon. Our large Kenai River King Salmon, in particular, are a trophy species and not everyone catches their trophy- however the beautiful round trip from Anchorage, along with time spent on this beautiful river make every trip a success. If you have any questions about the type of fishing, please contact our expert office staff today. Whatever date you select, you'll enjoy some great fishing on the mighty Kenai River!
Accommodations
No accommodations. Pickup in Anchorage at 7:30 - 8:00 am, return same day to Anchorage hotel by 9:00 - 10:00 pm.
Recommended Gear List
When you board the van in the morning, please be "dressed for adventure", as you will be getting in the boat with our guides right after lunch at our riverside lodge. Please bring full rain gear, if you have it warm clothes and good sturdy (waterproof is great!) footwear. Be sure to bring a water bottle! You'll return to the lodge about 5:30 - 6:00 and then head to Anchorage on our van. Dinner is not included in the package, but your driver will stop by a convenience store along the way so that you can get some snacks for the drive.
Getting There
Our Anchorage fishing trips include complimentary sightseeing van pickup in Anchorage (we pickup at 4 downtown, mid town and airport locations). Pickup is typically at 7:30 - 8:00 a.m. (time varies slightly each day based upon number and location of pickups). You'll arrive at the main lodge around 10:30 for check in and orientation.
You may also choose to drive in yourself via rental car (free parking while you are at the lodge) or catch a commuter air flight (additional fee) to our local airport in Kenai where a Great Alaska driver will shuttle you back to the lodge.
Whats Included
Pickup from Anchorage hotel and scenic transfer drive to our Lodge for your Anchorage fishing trip, lunch, 1-day fishing license, all necessary fishing gear, tackle, rain gear, guide, boat and equipment for your day adventure is included in your package. A King Salmon Stamp will also be included for those fishing for world record Kenai King Salmon on your one day fishing from Anchorage. Raingear is provided, so don't go out and buy any just for a one day Anchorage fishing trip. We also will clean and fillet any fish you choose to retain.
What's Not Included
Shipping boxes, gel pac ice, shipping charges for any catch you want to send back home.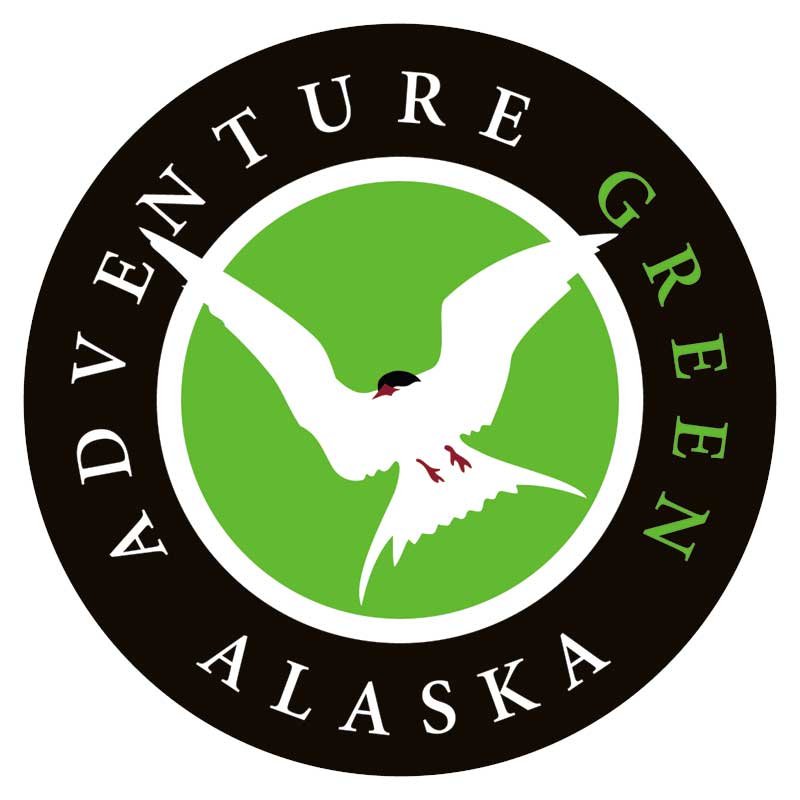 A Sustainable Destination
In addition to sharing the amazing Kenai with our guests, protection of our environment and all of it's unique and amazing wildlife is at the core of all adventure travel and wilderness fishing experiences, and since 2010, Great Alaska Adventures is proud to be certified as a sustainable Travel Destination from Adventure Green Alaska - Alaska's recognized tourism certification program.