Greatland Safari - 7 day Tour
One of our most popular trips... experience Alaska in a single week! The Greatland Safari focuses on the amazing Kenai Peninsula, combining our famous riverfront main lodge with an amazing stay at our private, fly-in wilderness camp. Glacier and wildlife cruising, scenic floating and gold panning, wild bear viewing, Wilderness hiking, "end of the road" touring and more. Saturday starts.
Activities
Private Bear Viewing
Sea Kayaking
Glacier and Wildlife Cruising
the "End of the Road" tour
Accommodations
This all-inclusive Alaska wildlife viewing and nature trip includes stays at our Kenai River main lodge and fly-in BearCamp. To start with, our renowned Kenai River Adventure Lodge features incredible river and Kenai Mountain views, world class hospitality and service and our "nearly world famous" nightly happy hour. Salmon fishing or paddling on the Moose River or just plain relaxing on one of our great river view decks compete to end the day.
Our incredible fly in BearCamp is a sustainable, leave no trace, glamping-style tent camp featuring twin or King beds with linens, solid doors and floors plus gas heat and light. A touch of luxury in the wilderness with hot showers and cutting edge composting toilets.
All trips based are on double occupancy - single rooms sometimes available for an additional fee.
Itinerary
Day 1
Anchorage Pickup & Fly to Bear Camp
Pickup at your Your driver will pick you up at your hotel at 7:30 on day one. The trip on Alaska's most scenic highway crosses 2 mountain passes & brings you to our Riverside Main Lodge for lunch. Following orientation, drop your main bag and board a small plane for the flight to our private, remote Bear Camp, named "Best U.S. Bush Camp" by Outside Magazine. A truly one of a kind experience with outstanding staff. Excellent meals prepared onsite, experienced, one of a kind staff and comfortable, unique accommodations (in comfortable, high - tech heated tent-cabins) combine with a truly exquisite wilderness to make this a lifetime experience. Our talented, committed and knowledgeable guides and staff help to make this a highlight of any Alaska experience.
Day 2
Morning with Coastal Bears & Return to Kenai Riverfront Lodge
Your final morning to share with the bears of Chinitna Bay and breathe in the true wilderness air. As part of our all-inclusive Alaska wildlife viewing tour, we'll be spotting the bears from our raised platform above the creek and sedge grass meadow where the bear congregate each spring, or a number of other ground-level viewing stations to truly experience the bears in the their native environment. Following lunch, your return bush flight will bring you back to our main lodge and your riverside home for the next 5 days on our renowned riverside lodge the Kenai River. Private bath and incredible views from the window of your riverfront cabin. Steps away, the main lodge features our "nearly world famous" nightly happy hour, great meals, evening guided fishing at our private beach next to a campfire, and unparalleled service to welcome you back to civilization!
Day 3
Alaska Hiking in the Chugach National Forest
Let's choose from one of the amazing local trails that make the Chugach National Forest and Kenai National Wildlife Refuge justly famous. Choose from a moderate, mostly level and fairly short trail with a "money shot" view at the end like the leaping salmon we'll see at the Russian River Falls trail, or one of our many other hikes that add a bit of exertion but always with that great view at the end... it's the group's choice of hike and there are many to choose from! Return to lodge in time for happy hour, dinner and overnight. Enjoy an evening paddle in a kayak or paddle board, or cast for salmon by the campfire. Alaska!
Day 4
Glacier & Wildlife Cruising in Kenai Fjords National Park
Today our all-inclusive Alaska wildlife tour will cruise the incomparable Kenai Fjords National Park! The protected waters of Resurrection Bay and Aialik bay are some of the most amazing regions on earth. On the short drive to Seward, we'll stretch our legs by walking to the face of a retreating Glacier close enough to nearly touch...then it's on to Seward to spend the rest of this day cruising and seeking calving Glaciers, Humpback whales and Orca, charming Sea Otters and endangered Stellar Sea Lions. Return to lodge for happy hour, dinner and overnight.
Day 5
Bald Eagle scenic float on the Upper Kenai River
Today we'll float through the turquoise clear waters of the upper Kenai River and it's prodigious salmon spawning grounds to see one of nature's most amazing events. This annual returning salmon brings Bear and Eagle (plus wild Trout!) in numbers to feast on salmon eggs and the carcasses of hundreds of thousands of spawning salmon. The tumbling aquamarine water rushes along rocks and forest through the younger and "Swiss-Alp" inspired Kenai Mountains. Gourmet lunch served shore-side by your enthusiastic guides. Return to the lodge for happy hour and overnight.

Day 6
"End of the Road" Homer Tour

We'll rise and shine early and head south towards Homer, Alaska (the "End of the Road" on the Kenai Peninsula. Once there, we'll board a famous water taxi and take a short trip to Halibut Cove, and artist and commercial fishign community perched on boardwalks along the sea. We'll enjoy lunch at a waterfront cafe that serves a special locally sourced menu. Active volcanoes, mt. vistas and amazing sea life mark this day. we even see commercial fshing boats working their nets later in the season. Return just in time for happy hour and dinner at the adventure lodge.
Day 7
Moose River kayaking or Paddle Boarding then Return to Anchorage
Today's adventure is a paddle into the Kenai National Wildlife Refuge on board safe and maneuverable kayaks. This is a truly unique area, and it's serpentine meanderings are home to Moose, Eagle, Fox, Beaver, Brown and Black bear and even Lynx and Wolves. The quiet kayaks or fun paddle boards allow us to explore it all without disturbing the animals or making a sound. If we make it far enough we'll enjoy lunch at our riverside tent camp on at the edge of the wildlife refuge. Either way, we'll return to the lodge at noon and then check out of your rooms at 2:00.
Like most of our trips, return to Anchorage is not included - commuter air from our local airport in Kenai (175.00 per person) or charter float plane direct from the lodge to Anchorage is 250.00 per person.
Recommended Gear List
However you choose to arrive, please be "dressed for adventure", as there may be a quick turnaround after lunch to get to the airstrip for your flight to BearCamp - flight times are affected by tides and each day is different time-wise. If your trip includes an overnight at BearCamp, be ready to check in to the lodge with a smaller day pack (about 30 liters or less) packed and ready to go, as your BearCamp® experience will typically be scheduled for your first 2 days of your trip (though not always). Maximum traveling gear for flights is 15 pounds per person. If you are on an extended stay with Great Alaska, we'll hold your larger bag back at the lodge while you are at BearCamp. Be sure to bring a water bottle! For you enthusiastic planners, please check out our Pre trip information for more packing and planning tips!

Getting There
Our trips include complimentary sightseeing van pickup in Anchorage (we pickup at 4 downtown, mid town and airport locations). Pickup is typically at 7:30 - 8:00 a.m. (time varies slightly each day based upon number and location of pickups). You'll arrive at the main lodge around 10:30 for check in and orientation. We pick up at the cruise dock in Seward or Whittier for an additional fee. After lunch at our main lodge on the banks of the Kenai River in Sterling, we adjust your luggage to meet requirements for your Bush Plane flight to Alaska BearCamp, then we transfer to Soldotna Airport for your hour-long flight seeing trip over Cook Inlet past volcanoes and glaciers to BearCamp.
Whats Included
Complimentary van pickup in Anchorage on day one followed by sightseeing transfer to lodge. Trips include our signature meals "nearly world famous" nightly happy hour and appetizers, plus of course our legendary evening activities like "by the fire" salmon fishing and Moose River wildlife kayaking/paddle boarding. Finally, all necessary equipment for your daily adventures is included in your package along with lodge concierge service.
What's Not Included
Gratuities, Alaska fishing license, resort fee, fish processing/shipping and return to Anchorage on your final day are not included in the package price of your all-inclusive Alaska wildlife viewing tour.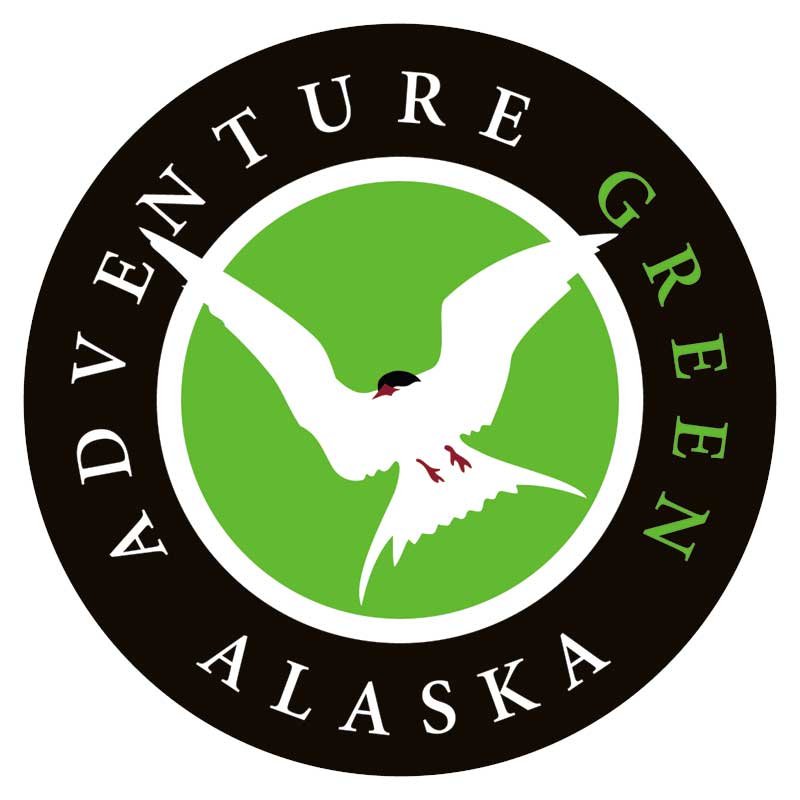 A Sustainable Destination
In addition to sharing the amazing Kenai with our guests, protection of our environment and all of it's unique and amazing wildlife is at the core of all adventure travel and wilderness fishing experiences, and since 2010, Great Alaska Adventures is proud to be certified as a sustainable Travel Destination from Adventure Green Alaska - Alaska's recognized tourism certification program.