All Inclusive Alaska Fishing and Bears
5-7 Days
An incredible trip featuring Alaska Lodge Fishing and Bearcamp
The Fishing and Bear Viewing Combination is one of our favorites...a great trip that combines either 1, 3 or 5 days of main lodge-based sport fishing with an overnight experience at our spectacular fly-in Bear Viewing Camp. This is the perfect blend of remote wildlfe viewing and world class fishing, all while enjoing world class hospitality and service
Accommodations
This experience features stays at our world famous BearCamp and renowned riverside main lodge. BearCamp is a "glamping" style basecamp with twin and queen beds and linens, gas heat and light, "en Suite" potties in the tents and composting toilets and showers in shared bathrooms. Our renowned Kenai RIver Adventure Lodge features incredible Kenai River and Kenai Mountain view rooms complete with view decks. Meals are served in the main lodge with lunches served "on the trail". All trips based are on double occupancy - single rooms sometimes available for an additional fee.
Itinerary
Day 1
Anchorage Pickup/orientation/fly to BearCamp
You'll be met at 7:30AM at one of three Anchorage pickup points by our private van for the scenic 2 ½ hour trip to Great Alaska. After arriving at riverside Main lodge, Lunch and orientation is followed by a transfer to the air strip in Soldotna, followed by your 50 minute flight to our incredible bear viewing camp in Lake Clark. You'll spend the balance of the day at our wilderness camp. Unlimited time on the raised platform plus a low staff/guest ration mean personal attention and a great experience.
Day 2
Morning with Bears of Chinitna/return to Main lodge
Today, you'll wake in the wilderness and enjoy your hot coffee on the raised viewing platform while viewing the bears in the meadow at the foot of Mt. Illiamna. Balance of the morning with the bears. Following lunch, you'll board the plane and head back to the main lodge, to settle into your riverfront cabins with a couple hours to relax before happy hour and dinner.
Day 3
Salmon Fishing
Your first day of freshwater Salmon or Rainbow Trout fishing. For more variety, you may opt to wade a mountain stream for Rainbow and Char or hike in to a high mountain lake for fly rod Grayling, depending upon season and availability. Each trip is different so be sure to talk to your adventure expert to craft the type of trip you wanting. Most days, you'll be back at the lodge by 2 - 3:00 and a well deserved nap or a few more casts right in front of your cabin door, prior to happy hour, dinner and more evening activities!
Day 4
Alaska Salmon Fishing
The Kenai river produces some of the most outstanding wild Salmon fishing in Alaska. We'll fish nearly every inch of the Kenai's 60 miles targeting 4 species of Salmon (King Salmon, Silver Salmon, Sockeye Salmon and Pink Salmon) and rainbow Trout or Dolly Varden. Depending upon the season, current water conditions run timing and your preferences, we'll drift, troll, cast or fly fish for these beautiful fish. Up to four anglers per boat will explore the hottest spot producing the most fish. Lunch will be "on the fly" in the boat, and you'll return to the lodge in the afternoon...just enough time for a little relaxation or a few more casts off our world famous beach before our "nearly world famous" happy hour and dinner.
Day 5
Alaska Halibut Fishing
Offshore fishing! We are blessed to have accessible to us 2 separate saltwater locations...Cook Inlet is Southwest of the main lodge and it is known for shallow water fishing, huge tides and huge fish! We also fish in gorgeous Seward/Resurrection Bay (to the lodge's East). Each offshore day is different, but we typically target Halibut primarily and salmon if they are available in numbers. On some days we'll even add some Black Bass and true cod to the fish box if we are lucky. Weather, tides and a number of conditions will affect the trip, making each day unique. Wherever we go, we'll see incredible scenery, great wildlife and usually bring back some tasty treats to take back home).
Day 6
Alaska River Fishing
Another great day of trophy Salmon or Rainbow Trout fishing (as in Days 3 & 4). It's your choice. For more variety, you may opt to wade a mountain stream for Rainbow and Char or hike in to a high mountain lake for fly rod Grayling, depending upon season. You may fish the Kenai or Kasilof rivers, two of our "home rives". You'll arrive back at the lodge in the afternoon, in time for a well deserved nap or a few more casts right in front of your cabin door, prior to happy hour, dinner and more evening activities.
Day 7
Your last day of Alaska Fishing
Salmon fishing in power or drift boat, returning to the lodge at noon in time for check-out, final catch arrangements, and good-bye hand shakes. At approximately 2:30PM, you will depart camp for your commuter flight to Anchorage or be met right at the lodge by your float plane charter back to Anchorage. e.
Recommended Gear List
However you choose to arrive, please be "dressed for adventure", as there may be a quick turnaround after lunch to get to the airstrip for your flight to bearcamp - flight times are affected by tides and each day is different timewise. If your trip includes an overnight at BearCamp, be ready to check in to the lodge with a smaller day pack (1500 cubic inches or less) packed and ready to go, as your BearCamp® experience will typically be scheduled for your first 2 days of your trip (though not always). Maximum traveling gear for flights is 25 pounds per person. If you are on an extended stay with Great Alaska, we'll hold your larger bag back at the lodge while you are at bearcamp. Be sure to bring a water bottle! Please see our pre trip info for specific what to bring list for BearCamp.
Getting There
Our trips include complimentary sightseeing van pickup in Anchorage (we pickup at 4 downtown, mid town and airport locations). Pickup is typically at 7:30 - 8:00 a.m. (time varies slightly each day based upon number and location of pickups). You'll arrive at the main lodge around 10:30 for check in and orientation. We pick up at the cruise dock in Seward or Whittier for an additional fee. our Denali trips, return is via the historic Alaska Railroad, arriving back in anchorage at approx. 8:30 pm. Cabs will be available (transfers not included- trip ends with return to Anchorage) to take you to your hotel or the airport, whichever you have set up.
Whats Included
Complimentary van pickup in Anchorage on day one followed by sightseeing transfer to lodge. Trips include our signature meals "nearly world famous" nightly happy hour and appetizers, plus of course our legendary evening activities like "by the fire" salmon fishing and Moose River wildlife kayaking/paddle boarding. Finally, all necessary equipment for your daily adventures is included in your package.
What's Not Included
There are a few items you'll see on your invoice:
Gratuities, Alaska fishing license, resort fee, fish processing/shipping and return to Anchorage on your final day are not included in the package price.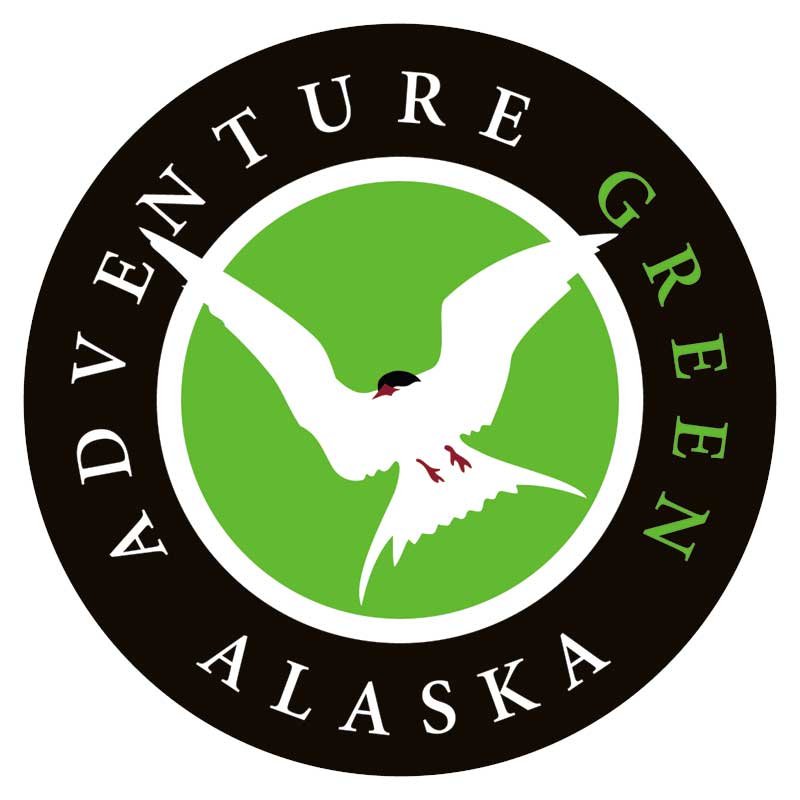 A Sustainable Destination
In addition to sharing the amazing Kenai with our guests, protection of our environment and all of it's unique and amazing wildlife is at the core of all adventure travel and wilderness fishing experiences, and since 2010, Great Alaska Adventures is proud to be certified as a sustainable Travel Destination from Adventure Green Alaska - Alaska's recognized tourism certification program.