Overnight BearCamp® Adventures
2 to 5 day trips with the Bears of Lake Clark
Great Alaska Adventures and Alaska Bear Camp is thrilled to announce that Natural Habitat Adventures, a wildlife-first, industry-leading eco-travel company will be taking over the ownership and stewardship of our incredible Alaska Bear Camp. NatHab is a leader in sustainable wildlife viewing and absolutely committed to the preservation of the area and its incredible wildlife.

You can read more about the change of ownership here, and you can find out about NatHab's 2022 Alaska Bear Camp trips here
Activities
One-of-a-kind, truly Wild Bear viewing
A sustainable camp, deep in the Wilderness
ISpectacular Flight seeing trip to and from camp
Accommodations
We recommend you overnighting in Soldotna the night befoe the trip, as we begin our fllights in the morning if weather and tides allow it.
BearCamp® is a "glamping" style basecamp. A sustainable camp that limits our demnds on the beas but provides and amazing one-of-a-kind experience. BearCamp is a grandfathered homestead witin the Lake Clark Nat. Park. Overnights are in our extreme duty Weather-Port tents on wooden decks. The tents feature hard floors, solid doors, Twin or King beds with full linens plus propane heat light. Each tent also has a small potty for any necessary evening trips to the potty.
Meals are served in the main dining tent with where we have bear-centric library and a charging station for your camera and or phone batteries. afterwards tje beachfront gazebo is the bomb to watch the sun (maybe not) go down and maybe even see some bears on their evening sojourn.
Finally, a fantastic view of Cook Inlet right from your comfy bed ensures a full-on "Glamping" stye adventure you'll never forget.

Itinerary
1st Day
Check-in at Main lodge / Fly to BearCamp, View Bears & Overnight
Please be in Soldotna the night before your trip begins, (unless you are using our Anchorage van transfer, in which case we'll pick you up at your hotel 7:30-8:00 a.m.) We'll confirm the flight schedule for the day the night before, and give you a check in time (typically between 8:00 and 12:30 depending upon tides and other factors). Orientation is followed by a flight to BearCamp©, our incredible bear viewing camp in Lake Clark National Park. Following your arrival at BearCamp and a new orientation, you'll spend the afternoon viewing the amazing coastal Alaskan Brown Bear. Overnight in high-tech Weather-Port tent cabins with heater, porta-potty, writing desk, and twin beds. Camp features an electrified fence perimeter.
Middle Day(s)
All Day With the Bears of Chinitna & Overnight
(Note: this day applies to any middle days on 3, 4 or 5 day trips). Today is that pearl of a day…in a wilderness Shangri-la with nowhere to go! Wake up to hot coffee and a wash basin of steaming water. After a hearty breakfast, you guides will discuss the best viewing options, then it's off to one or both of our special viewing locations. Watching bears clamming, fighting, feeding or playing are all on the agenda- each time period and season brings it's own unique combination, and every single trip is different. (The Bears begin fishing in the late July/August time frame). A wonderful Lunch and dinner will be served back at the main camp in the dining tent, with evening beach fires (weather permitting) then overnight with the staff of BearCamp.
Last Day
Morning with the Bears / return to main lodge (this describes your final day, whether a 2, 3, 4 or 5 day trip)
A final day with the bears…you and your guides will perhaps choose another viewing location, walk the beach, and spend the morning in true wilderness beauty with the royalty of Alaskan wildlife.After some morning viewing, it's back to the planes for the trip to our riverside main lodge. No transfers version guests will depart on own after afting at main lodge. If you chose r/t transfers from Anchorage, see below:
PLEASE NOTE: FOR R/T TRANSFERS FROM ANCHORAGE, THERE WILL BE A LAYOVER AT THE LODGE BEFORE YOUR DEPARTURE BY VAN BACK TO ANCHORAGE. If that does not work for your schedule, choose the "no transfers required" version. The "No Transfers" version is complete when you land and are transferred to the lodge and check out- dinner on your own.

Recommended Gear List
However you choose to arrive, please be "dressed for adventure", as there may be a quick turnaround after lunch to get to the airstrip for your flight to bearcamp - flight times are affected by tides and each day is different time-wise. Please see our pre trip info. do get more extensive what to bring" and logistics/pricing information. If your trip includes an overnight at BearCamp, be ready to check in on day one with a smallish day pack (1500 cubic inches or less) packed and ready to go, as your BearCamp® experience may be scheduled for your first 2 days of your trip (though not always). Maximum traveling gear for flights is 15 pounds per person. If you are on an extended stay with Great Alaska, we'll hold your larger bag back at the lodge while you are at BearCamp.

Getting There
Contact us the night before your trip (866 411 2327) to confirm the flight schedule. We request you overnight in Soldonta the night before our trip. You can check in at the main lodge the day prior to get your flight time and sign some documents, or you can do it the following day.
After check in, we'll transfer you to the air strip for the amazing flight to BearCamp.. Your approximately 50 minute flight will take you over Cook Inlet, past volcanoes and glaciers and finally landing at BearCamp. When your trip is over (whether that be 2, 3, 4 or 5 days) your return flight will take you back to the landing strip, and we'll then shuttle you back to the main lodge to pick up your car and continue on. Return flight from BearCamp typically arrives between Noon - 4:30 depending on weather and tides and other factors. Please be prepared.
Whats Included
Your Alaska BearCamp Adventure includes all meals and lodging while at BearCamp, along with mulitple daily excursions seeking (and usually seeing) Alaska Brown Bears. Nightly "happy half hour" features a nice wine or micro brew over a few hors d'oeuvres before dinner that feels like a touch of luxury in the wilderness.
MEALS: begin with lunch on day one - (usually at our Adventure lodge but sometimes at BearCamp if you are on a morning flight) and end with lunch (typically at BearCamp) on your final day. Transfers from main lodge to Air strip i Soldotna. Parking for your rental or personal car is no charge.
What's Not Included
Gratuities,
R/T transfers to Lodge from Anchorage.
Trip ends upon your return to the main lodge (or Anchorage, as the case may be. If you choose transfers from Anchorage (available for an additional 150.00 per person) there will be a layover at the lodge before departing for Anchorage around 6:30 pm. Your driver will stop along the way so you can get some snacks for the road. Dinner on your own in Anchorage.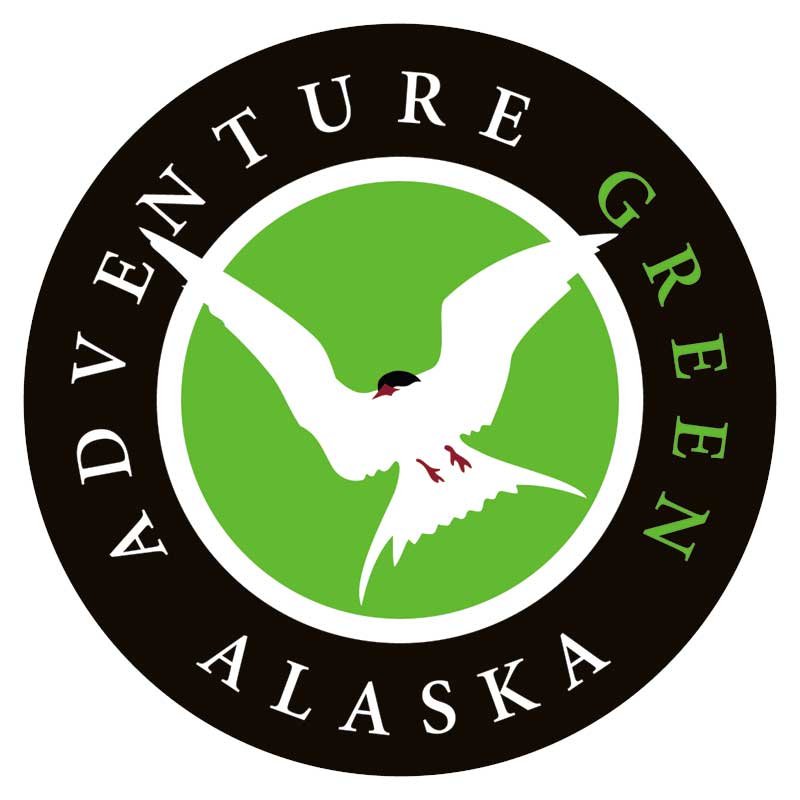 A Sustainable Destination
In addition to sharing the amazing Kenai with our guests, protection of our environment and all of it's unique and amazing wildlife is at the core of all adventure travel and wilderness fishing experiences, and since 2010, Great Alaska Adventures is proud to be certified as a sustainable Travel Destination from Adventure Green Alaska - Alaska's recognized tourism certification program.